Warmfuzzy's Main Page

Warmfuzzy's NewsLetter
Never feed a kitten cow's milk or human baby formula as this causes stomach upset and severe diarrhea. If a kitten is already dehydrated, this could prove fatal. This includes condensed/evaporated canned cow's milk!
There are several good milk replacers on the market, available in liquid or powder form (my personal favorite is called Just Born). The ready-mix liquid is more convenient. Be sure the product is engineered for kittens and that it is fresh (some have a short shelf-life). Milk replacers can be found in any pet supplies store, most veterinary clinics, and even in some variety stores.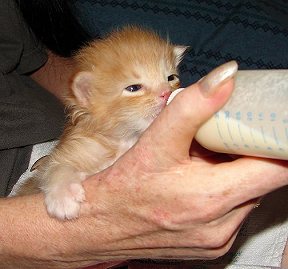 If the kitten seems weak or ill and you cannot get to a veterinarian right away, you should administer slightly warmed Pedialyte before offering the milk replacer.